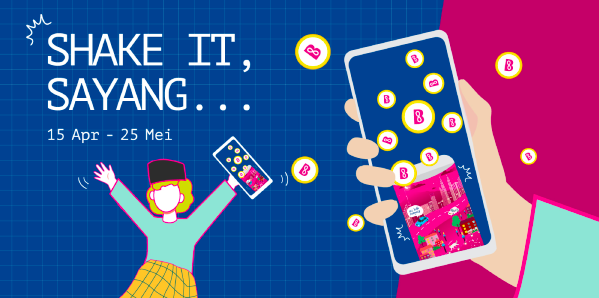 We would also like to take this opportunity to thank everyone who participated and made our campaign a huge success.
Winners need to email us their personal details to
CustomerExperience@binfinite.com.my
, this is for verification and prize delivery purpose.
- Full Name
- NRIC (last 4 digit)
- Mobile number
- Delivery Address
The prize will be forfeited if we do not receive the details by 10 July 2022, so hurry up and email us today.
-----------------------------
Here are the top winners who will be receiving prizes from us:

Grand Prize 1: Mi Robot Cleaner
Name: Chuah Hui Feng
BI Card Number: 6298XXXXXXXX1866

Name: Mono Kari Sokkalinggam
BI Card Number: 6298XXXXXXXX5103

Name: Lim Swee Geok
BI Card Number: 6298XXXXXXXX4531

---------------
Grand Prize 2: Philips Air Fryer (4.1L)
Name: Lok Li Ken
BI Card Number: 6298XXXXXXXX1039

Name: Zainal Abidin Bin Setapal
BI Card Number: 6298XXXXXXXX2071

Name: Hon Kah Onn
BI Card Number: 6298XXXXXXXX5420

Name: Tan Nget Foong
BI Card Number: 6298XXXXXXXX4736

Name: Sohan Neumal Peiris
BI Card Number: 6298XXXXXXXX1975

Name: Chong Kong Ken
BI Card Number: 6298XXXXXXXX6466

---------------
Grand Prize 3: Huawei Band 6
Name: Toong Hoi Pang
BI Card Number: 6298XXXXXXXX3829

Name: Hong Siew Hoon
BI Card Number: 6298XXXXXXXX6971

Name: Heng Yeo Hong
BI Card Number: 6298XXXXXXXX7693

Name: Leong Peng Fatt
BI Card Number: 6298XXXXXXXX5186

Name: Lau Wen Yee
BI Card Number: 6298XXXXXXXX7581

Name: Wee Lay Kee
BI Card Number: 6298XXXXXXXX0418

Name: Hisamudin Bin Mohd Yunus
BI Card Number: 6298XXXXXXXX5840

Name: Tan Hang Seong
BI Card Number: 6298XXXXXXXX0107

Name: Mak Yoke Lan
BI Card Number: 6298XXXXXXXX2077